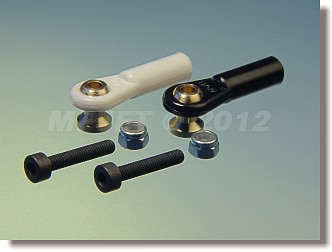 Since the April 2012, the assortment of ball links is extended with a new type with diameter of brass ball 7mm and with M4 thread for pushrod in plastic eye (MPJ 2460-2467).
The new type of ball link is made with construction exactly similar with our currently made types (MPJ 2450-2457), the only difference is the thread for pushrod – M4 is used instead of M3.
The ball links MPJET 2460-2567 are packed in standard MP JET packets of 2 or 6pcs, currently only in black colour.